Hi all! I spoke to a lot of players lately and I figured it might be helpful to clarify about the new VIP system and the rake structure used by the GG Network. The rakeback percentage you received was 35% flat but since November 1st they changed their VIP system to a new tiered one.
VIP SYSTEM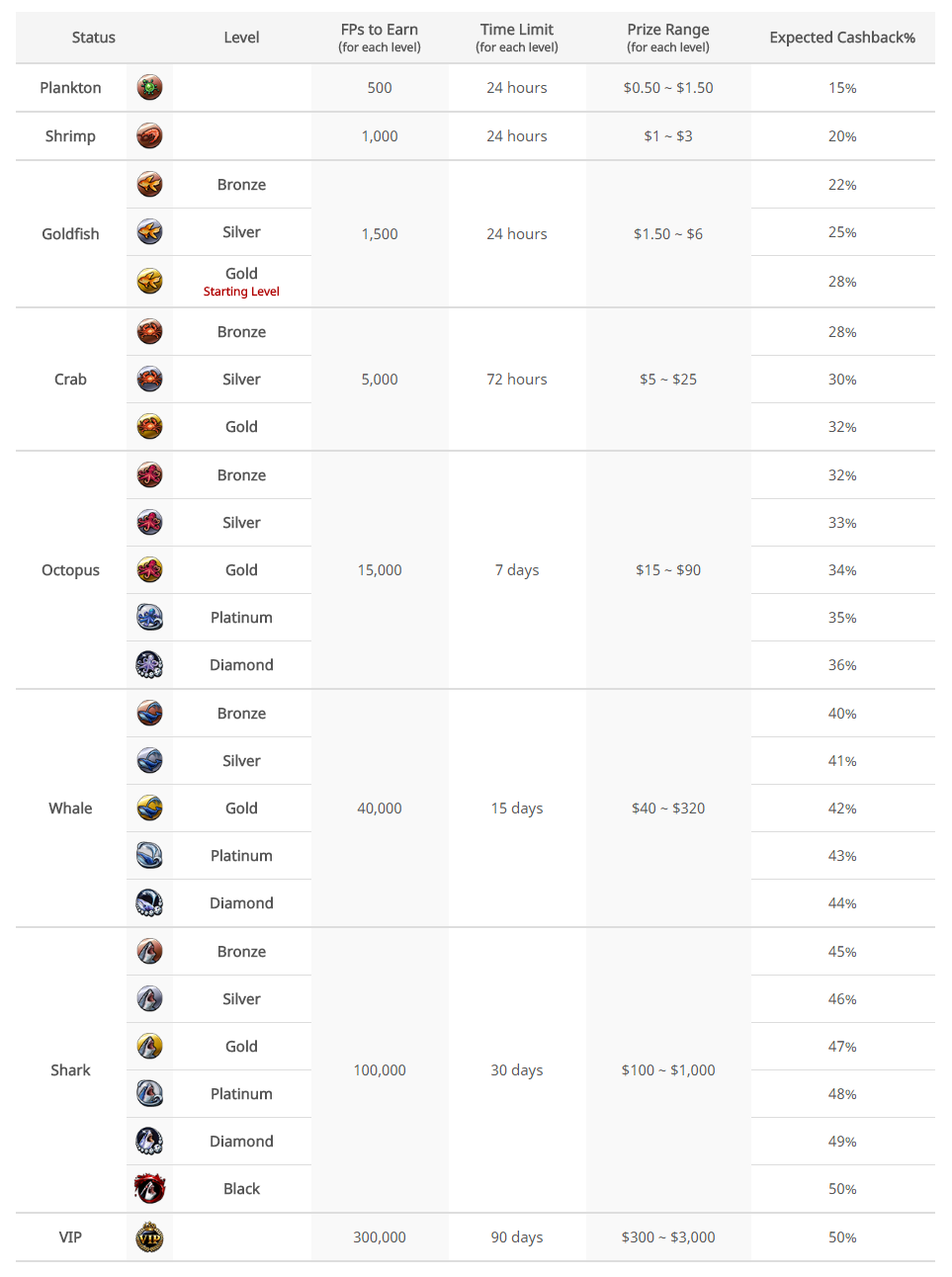 New Tiered VIP-System GG Network
Here are the different VIP-levels and the expected cashback that belong to each level. An important question to many players is if they are still able to reach the 35% rakeback level. You earn 1FP per $0.01 or 100FP per $1 rake to make it easier to read the table. Crab status will therefore be reached when you rake $50 and Octopus status when raking $150 and so on. Within the status, the wheel spin determines if you get 32% or 36% rakeback (for Octopus status). Whether you are able to reach the 35% from before depends on the stakes you play, one's playing style and the number of hands you'll be able to play. More info can be found here and MAKE SURE TO OPT-IN THE NEW VIP SYSTEM if you're playing at GG already: (For some reason the link is not allowed, but google for FishBuffet + GG Network and you will find it)
RAKE STRUCTURE Next to the new VIP-system there is a lot to do about the rake structure the GG Network utilizes. It's the only network that has a different rake structure between No Limit Hold'Em and Pot-Limit Omaha. You can see the caps for NLHE in the table and for PLO its 3% uncapped at all stakes. I'll write a more thorough blog post about uncapped rake structures later, but there are a few take-aways.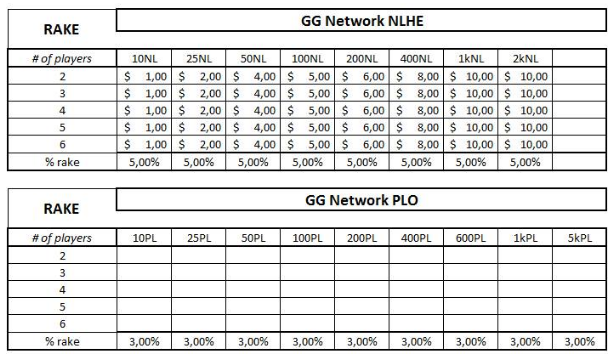 Rake Structures GG Network
First, for NLHE the rake structure is effectively 5% uncapped for lower stakes and the caps for mid- and higher stakes are very unfavorable. There are definitely better options out there to play NLHE, unless you find the games extremely soft and/or you are able to reach a very high rakeback level. For most players though, I think it's better to look for alternative NLHE options. The rake structure for PLO is 3% uncapped for all stakes. This becomes very tricky at higher stakes because pots can become large and there is no cap so 3% will be charged at every pot. I did the math and I think it's actually a great structure for players playing PLO10-100. It outperforms a lot of sites that have caps but are never reached in reality and therefore actually charge 5% uncapped for these specific stakes. Again, if you play higher stakes and find the games extremely soft and are able to reach a VIP-status that gives a high percentage cashback it might be worth it, but you need to be on your toes.
They offer a 200% up to $1000 welcome bonus that can be cleared in 90 days.
If you are interested in the GG Network, please sign-up through the following link:
https://goo.gl/TbRCv1
(delete cookies and restart browser before using the link)
Payments go via player support and the GG Poker software can be found at the right tab 'download'.